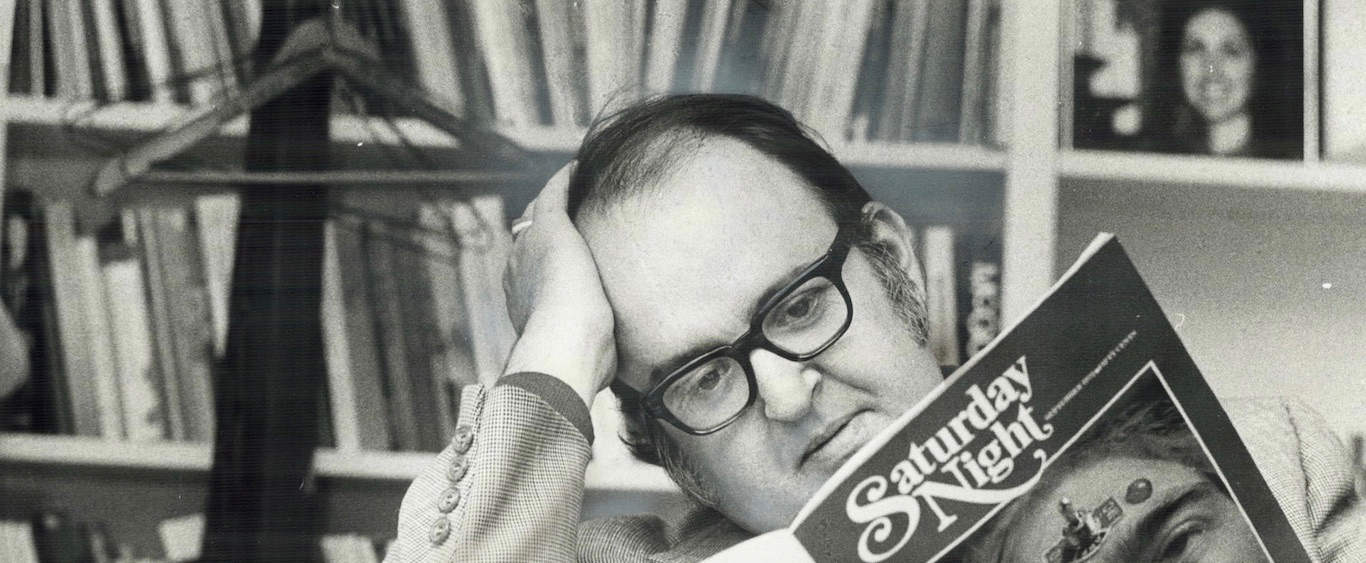 Career
Journalism
Reporter, The Globe and Mail, 1950-1953 and 1955-1956
Worked in the 1950s and 1960s on editorial staffs of The Globe and Mail, Canadian Homes and Gardens, Mayfair, and Maclean's. Served on the editorial board of the Canadian Forum.
Daily columnist for the Toronto Star, 1959-1962 and 1964-1968
Monthly film columnist (as Marshall Delaney), Saturday Night magazine, 1965-1986
Host, The Arts This Week, CBC Radio, 1965-1967
Host, This Is Robert Fulford, CBC Radio, 1967-1972
Editor of Saturday Night magazine, 1968-1987
Weekly columnist for the Toronto Star, 1971-1987
Co-host of the TVOntario interview program Realities, 1982-1989
Weekly columnist, The Financial Times of Canada, 1988-1992
Media columnist for Morningside, CBC Radio, 1989-1993
Weekly columnist, The Globe and Mail, 1992-1999
Frequent contributor to Queen's Quarterly since the 1990s
Regular columnist, The National Post, 1999 to 2019
Articles, book reviews, etc. in over 60 magazines and newspapers, including:
American Review of Canadian Studies, Americas, Applied Arts, artscanada, Azure, Books in Canada, Business Quarterly, Canadian Notes & Queries, Canadian Architect, Canadian Art, Canadian Author and Bookman, Canadian Forum, Canadian Geographic, Canadian House and Garden, Canadian Interiors, Canadian Jewish News, Canadian Literature, Chatelaine, The Chesterton Review, Chicago Tribune Magazine, City and Country Home, Content, Craft Horizons, Destinations, Down Beat, Eugene O'Neill Review, Financial Times of Canada, Gardening Life, Globe & Mail, The Idler, Imperial Oil Review, Insite, Journal of Scholarly Publishing, Los Angeles Times Book Review, Maclean's, Malahat Review, Marketing, Masthead, Media, Montreal Gazette, National Post, New Federation, The New Republic, New York Times Book Review, New York Times Magazine, Ontario Library Review, Ottawa Citizen, Policy Options, Queen's Quarterly, Quill & Quire, Reader's Digest, Report on Business Magazine, Rotunda, Saturday Night, Tamarack Review, Toronto Life, Toronto Star, U.S. News & World Report, Venue, Wall Street Journal, The Walrus.
Books
Teaching
Chair, arts journalism programme, Banff Centre for the Arts, 1989-1992
Maclean Hunter Chair in Communications Ethics, School of Journalism, Ryerson Polytechnic University, 1989-1993
Other Experience
Co-author (with James Knight) of a new English adaptation of the libretto for Offenbach's "Orpheus in the Underworld," Stratford Festival, 1959
Co-chair, International Design Conference ("Neighbors: Canada, USA & Mexico"), Aspen, Colorado, 1984
Barker Fairley Distinguished Visitor in Canadian Culture, University College, University of Toronto, 1987-88
Member of a delegation which travelled to the Soviet Union to meet refuseniks (with Wendy Eisen, Irving Abella, John Erb, and John Oostrom, sponsored by the Canadian Jewish Congress), 1988
Past member of Ontario Rhodes Scholarship Committee
Invited lecturer, Walter Gordon Forum in Public Policy, Massey College, University of Toronto, 1997 (see lecture)
Invited lecturer, John M. Olin Conference: "The Closing of the American Mind Revisited," University of Chicago, 1997 (see lecture)
Invited lecturer, Centro Siena-Toronto, Università degli Studi di Siena, Italy, 1998
CBC Massey Lecturer, 1999
Giller Prize jury member, 2001
Among a group of Canadian journalists invited to visit Israel by the Canada-Israel Committee, 2002 and 2003 (see related columns)
Member of jury for international architecture competition, Canadian Museum for Human Rights, Winnipeg, 2005
Awards
Photo by Ron Bull, 1972, courtesy of Toronto Star Archives
Robert Fulford's Home Page