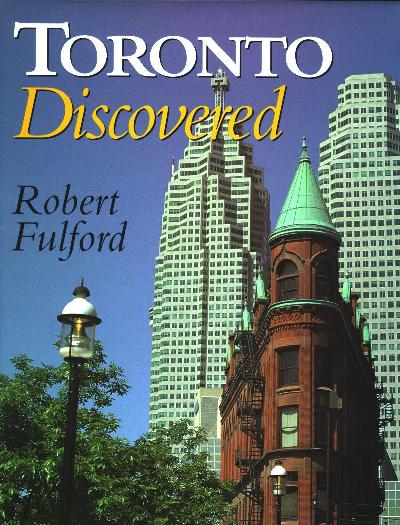 Toronto is a tantalizing puzzle of a city, continually delighting visitors and locals alike. In Toronto Discovered (111 pages, large format, $29.95), Robert Fulford and a team of photographers take readers on a fascinating journey that reveals the city's vibrant and ever-changing character.
"Brilliant...."
-- Slinger, Toronto Star
"Toronto Discovered is a coffee-table book that happily combines the virtues of high-quality photography with the colourful insights of one of Canada's most-respected and prolific journalists....

"Fulford reintroduces us to the delights of a city that was once 'the Plain Jane of North American municipalities' and has, almost before we knew it, 'developed into a dense collection of urban mysteries, where buried rivers and a maze of tunnels beneath the downtown skyscrapers...await discovery by devout pilgrims.'....

"Accompanied by more than 100 handsome, full-colour images...Fulford's romp through Toronto is a delight."

-- Laszlo Buhasz, The Globe and Mail travel section
Toronto Discovered is published by Key Porter Books.

Should you wish to purchase the book over the Internet, you can order it from Chapters/Indigo.
---
Return to Robert Fulford's Home Page